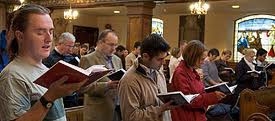 Nearly all church musicians think it's important to introduce new music to our assemblies. Nearly all of us have probably felt the sting of criticism from members of our congregations who don't want to learn new music. In attempting to respond to these comments I like to get at three underlying questions: WHY do we sing new (or new to us) music? WHAT new music is worth learning? HOW can "non-musicians" learn to sing this new music?
So first, the "why" question. For some people, having to attempt the unfamiliar (often unsuccessfully on the first, second, or even third try) is a frustrating impediment to prayer. For others, frequent exposure to interesting and topical new material makes the worship experience more stimulating. One part of our job as leaders of the church's song is to find the middle ground: incorporating enough variety and freshness to keep worship alive and vital, and also using the familiar songs that have given comfort and hope to so many in our communities throughout their lives.
What new music should we sing? Making these selections is among both the most challenging and the most rewarding aspects of our job, made more challenging by the incredible explosion of worship music that has become available over the last 25 or 30 years. There are new hymns in "traditional" styles. There are Gospel hymns and songs from other Christian traditions that are not necessarily new but are fairly recent additions to our local repertoire. There is much available to us from the global community, particularly from Africa and Latin America. There are probably even several hundred selections in our hymnal that we haven't learned yet!
How should those who don't read music learn it? My first advice is to encourage people simply to listen. Sing new pieces several times in a relatively short time span, so people have time to get the music into their ears. By all means, teach your choir the music ahead of time! Providing a vocal model for the rest of the congregation to follow is the choir's primary responsibility. When introducing new music, invite folks to listen to the choir for a while, hum along when they feel more comfortable, and jump in and sing once the music feels familiar.
I often remind people in conversation that they are invited—in fact, more-or-less expected— to sing. (Sort of like at a birthday party… the one who doesn't at least make a feeble attempt at singing "Happy Birthday" is a bit of a party pooper.) But they're also invited to take their time. I try to assure people that I've taken great pains to choose music that is both interesting and singable, and that in time, I hope, they'll feel ready to join in.
Finally, we should be ready to concede that sometimes there are musical "duds". What sounded great at another church or at some convention you attended just might not be right for your particular community. Sometimes a piece of music has hidden pitfalls that only come out after you try singing it. Problems like these are sometimes evident immediately, but more often it takes a few weeks of repeated singing and discernment before we know whether a piece is or is not working well. I hope we all can find meaning and growth in new challenges, whatever they are and from wherever they come.